LED Recessed Lights for Commercial Spaces: Efficient, Eco-friendly Lighting
Navigation
Introduction
Gone are the days when traditional lighting dominated commercial facilities. More and more businesses are switching to energy-efficient and eco-friendly lighting solutions.
LED recessed light has become increasingly popular in recent years due to its energy-efficiency, longevity, and versatility. These lights are designed to be installed into ceilings or walls, creating a sleek and modern look while providing ample illumination for any space.
What are LED recessed lights?
The low-profile LED recessed ceiling light known as the flat panel LED downlight offers exceptional lumen output and glare control, perfect for enhancing comfort in any commercial, residential, or institutional space.
This innovative lighting solution eliminates the need for bulky housing that is fire rated or IC rated. Its canless and wafer-thin design not only saves on material costs but also simplifies installation, thereby delivering a sleek architectural look that can even be surface-mounted.
With both round and square aperture options available, these compact ceiling lights can be easily installed in varying areas, including office spaces, shopping centers, restaurants, hospitals, factories, making them ideal for both new-construction and remodeling projects.
Dealing with the High Luminance
To issue high LED luminance, LED recessed lights are the best choices. These surface emission devices utilize compound optical systems to achieve uniformity across the entire panel.
While LEDs are high flux density, directional emitters with exceptionally high luminance, the traditional backlit design creates issues with hotspots and glare due to the high level of diffusion, leading to optical scattering loss. Increasing the clearance between the light source and the diffusing lens enhances light distribution but also thickens the fixture profile.
To control glare, standard LED downlights recess the LEDs deeply into the housing, making them invisible from direct view. However, this creates harsh glare when looking upward. While cutoff optics can mitigate this, they reduce illuminance coverage in the process. Thus, conventional downlights are not the best option for general lighting needs because narrow beam distributions necessitate a high fixture density.
Excellent Thermal Control
The design of the LED downlight minimizes the thermal path for better heat extraction. The die-cast aluminum housing that houses the LEDs also serves as the heat sink, with integral fins that increase the surface area for dissipation. The passive heat sink must transfer heat faster than the LEDs produce it. The downlights use mid-power SMD LEDs that need to be kept at a controlled junction temperature to prevent premature degradation and color shift. Overdriving the LEDs can cause efficiency droop and increase the thermal load, so they should not be overdriven.
Color Rendering and Edge-lit LED Downlights
When selecting light sources for edge-lit LED downlights, color characteristics should be among the factors considered. SMD LEDs of different specifications can be used. However, many products tend to emphasize luminous efficacy over color quality, resulting in low to mid-80 CRIs in high-color temperature products. While these products have a high luminous efficacy that appeals to uninformed consumers, the LEDs are typically saturated in blue and green, failing to optimally display saturated colors for merchandise, artwork, and skin tones. When used as the primary light source for living, working, or shopping spaces, it is better to use light sources with a minimum CRI of 90. This ensures optimal color rendering.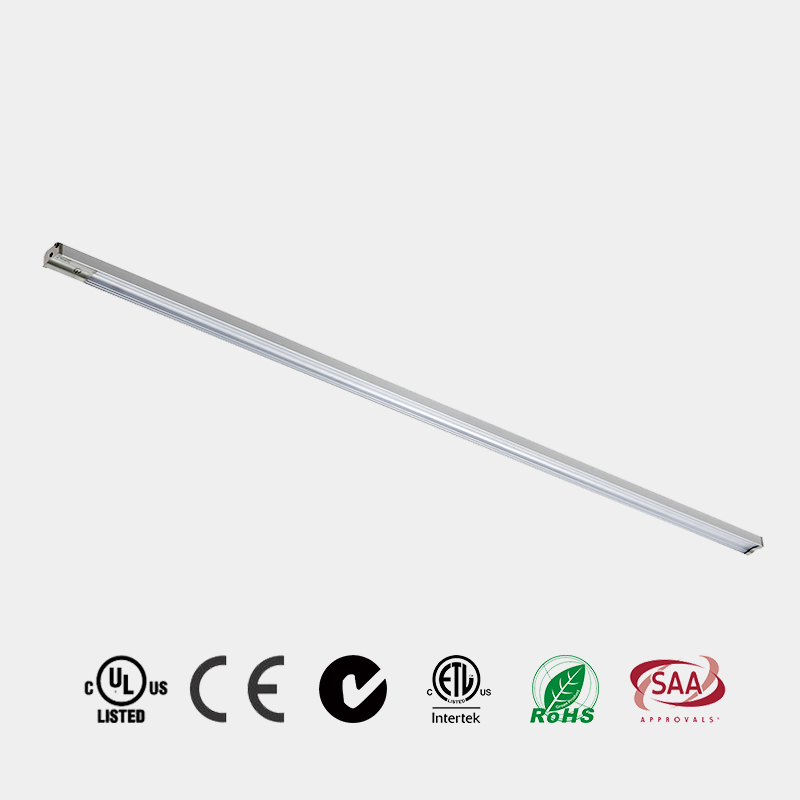 Color temperature and consistency
Different CCT options are available for LEDs, varying from 2700K, 3000K, 3500K, 4000K, to 5000K. High CCT light sources are commonly used for commercial applications, but using them for homes is not ideal. This is because high CCTs serve as potent suppressors of melatonin, which is a crucial mechanism for human protection.
For residential, hospitality, and other situations where relaxation is necessary, warm light (2700K to 3200K) is preferred. Warm light has low levels of blue, which do not suppress melatonin, leading to better sleep patterns.
With an edge-lit design, color mixing within the LGP is possible, ensuring uniform coloration in the entire luminous surface. In contrast, backlit systems often exasperate LED-to-LED color deviations if LEDs are not binned tightly. Edge-lit LED downlights are excellent for dynamic white lighting applications such as atmospheric lighting and human-centric lighting, especially since they have reliable color mixing.
LED driving and dimming
LED downlights use an off-board driver that can be mounted remotely for shallow ceilings. The driver can operate on a dedicated voltage or range of inputs. The driver should generate minimal ripples in the output current to prevent flicker or visual anomalies that can cause eyestrain, blurred vision, and headaches.
Dimming the LED load is desirable for adjusting the light output to the user's needs or preference. The driver may include a constant current reduction (CCR) dimming circuitry that allows smooth dimming through 0-10V or DALI controls. Compatibility between the LED driver and the dimming control is crucial. However, when the LED load is dimmed by a forward phase or electronic low voltage dimmer, the interaction between the phase control dimmer and the switch mode power supply can cause flicker, dropouts, popping on, or dead travel, which should be taken into consideration.
Conclusion
In conclusion, efficient and eco-friendly lighting solutions are integral for commercial facilities. LED recessed lights are an excellent investment that can provide substantial cost savings, energy savings and enhance productivity and aesthetics.
High Quality Commercial LED Lighting Fixtures Manufacturer | Halcon Lighting Products is a lighting company that specializes in creating contemporary, superior, and creative lighting fixtures. We are a top option in the lighting industry because we provide a wide range of lighting solutions that have been thoughtfully designed to meet the requirements of their customers.
Halcon Lighting is dedicated to delivering exceptional customer support along with its exceptional products. We ensure that their customers are happy with their products and services by providing expert advice and support from the very beginning of product selection through installation.